CPA UK was invited by His Excellency Governor Tim Foy to monitor elections in the British Overseas Territory of Anguilla, through a virtual Election Experts Mission. Held on Monday 29 June 2020, these legislative elections resulted in a victory for the main Opposition party, Anguilla Progressive Movement (APM). The Opposition, having won seven seats out of 11, will form a new Government.
This shift in representation in the House of Assembly provides an opportunity to build on past progress. During Phase One, The UK Overseas Territories Project (UKOTP I) worked extensively in partnership with Anguilla, between 2016-2020, to support the functioning of the Assembly. Strong relationships were established with parliamentarians in the Public Accounts Committee, Auditors and staff of the House.
Phase Two of the project (UKOTP II) is equally designed to facilitate collaboration with Members of the Assembly, to strengthen capacity and promote democracy. The recent elections provided an opportunity to trigger collaboration with elected representatives, despite the constraints of Covid-19.
Post-Election Seminar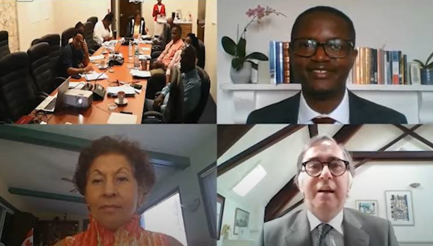 From 20 -24 July, CPA UK collaborated with CPA HQ to deliver a ground-breaking virtual Post-Election Seminar. CPA UK led on sessions that fell under the UKOTP's area of expertise; parliamentary scrutiny through oversight of public spending and good governance. These sessions were tailored to meet the needs of newly elected as well as re-elected parliamentarians. They focused on The Role of Select Committees, The Role of the Public Accounts Committee, and Writing Reports and Achieving Impact. Resource speakers included: Gagan Mohindra MP (UK), Nick Smith MP (UK), Dr Anna Dickson (UK Parliament), Ms Yasmin Ratansi MP (Parliament of Canada), David Melding MS (Senedd Cymru - Welsh Parliament) and Ms Pam Webster (Anguilla).
Post-Election Seminars provide the space to reflect both on the past and the future, highlighting examples of good practice. At this virtual Seminar, Ms Pam Webster, outgoing Leader of the Opposition and former Public Accounts Committee Chair, expressed her gratitude to the UK Overseas Territory Project, for the support her committee received when she was Chair, including through arranging the secondment of a House of Commons' Clerk who lived and worked in Anguilla over three months, supporting the Clerk of the Assembly.
UK Overseas Territories Project
The Project (UKOTP II) Team is keen to continue to support Overseas Territories remotely through a range of virtual activities, including Post-elections seminars in Territories where elections have recently taken place such as the British Virgin Islands (BVI) and where they are soon to have elections such as the Turks & Caicos Islands (TCI). Anguilla was only the start under Phase II.